Hyundai Tucson vs Lexus NX
What makes a car premium? Is it the badge the model bears on its nose, or is it the level of technology on offer inside? Is it the refinement, or the quality, or the fact that spending more money means you don't have to make compromises compared with a more mainstream alternative?
In truth, it's all these things and more – and for brands such as Hyundai that have been clamouring to elevate their image to a more upmarket status, this push towards a more premium product is embodied by the Korean firm's new Tucson SUV.
It's a big departure from what came before it, and given Hyundai's experience and success with electrification, this Tucson Hybrid should help when it comes to refinement.
When considering premium brands that offer non-plug-in hybrid SUVs, there can be only one alternative: Lexus. The manufacturer's UX is dwarfed by the Tucson, but for similar money to the top-spec Ultimate-trim Hyundai we have here, you could get into an NX instead. Lexus is a consistent performer with owners in our Driver Power survey, proving the company's premium status – so can Hyundai give it a run for its money?
Hyundai Tucson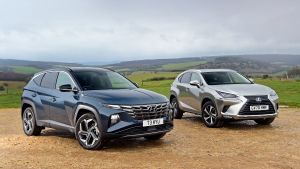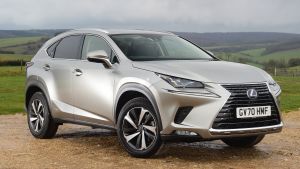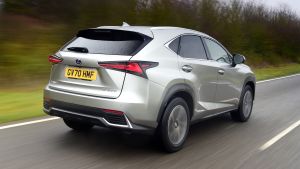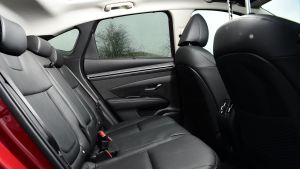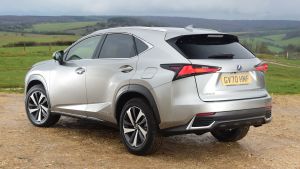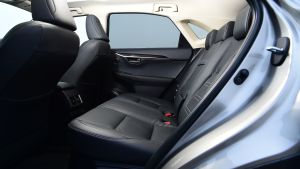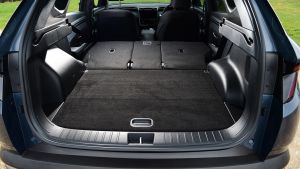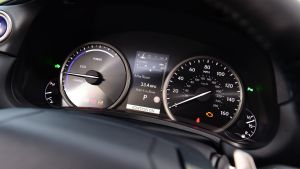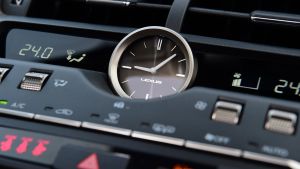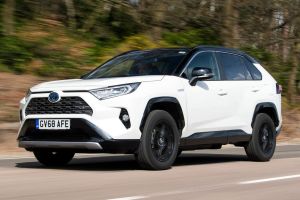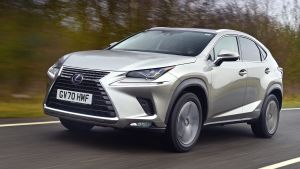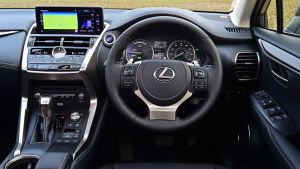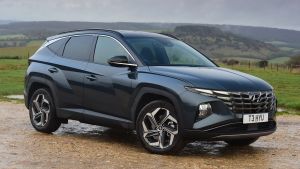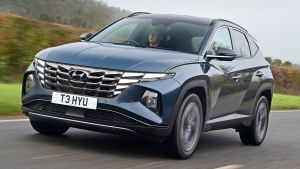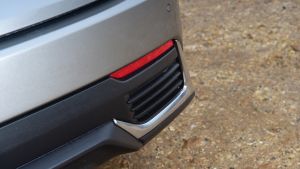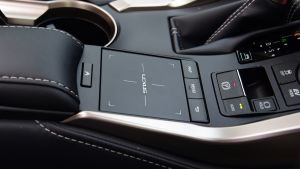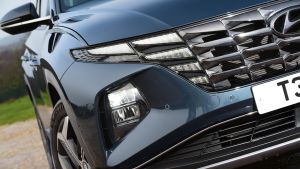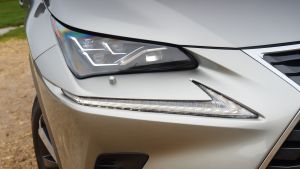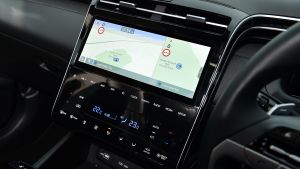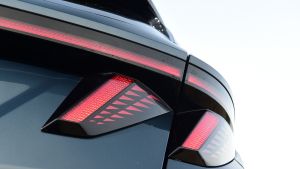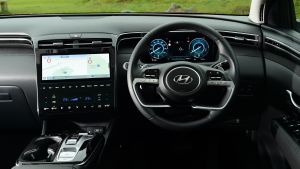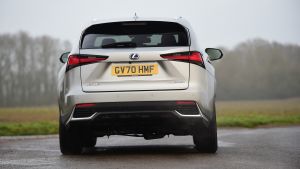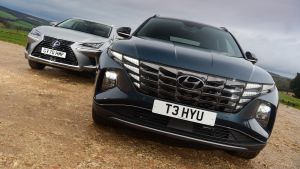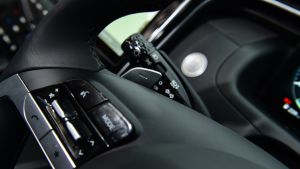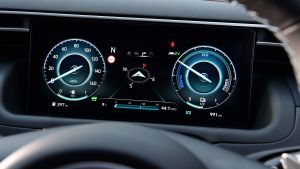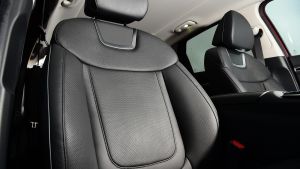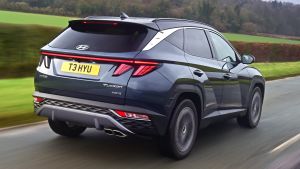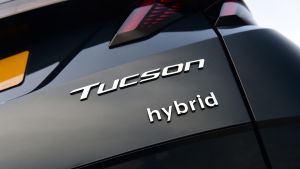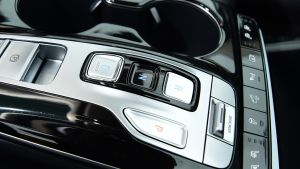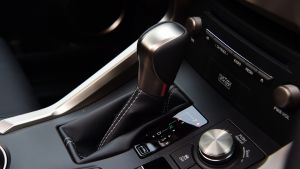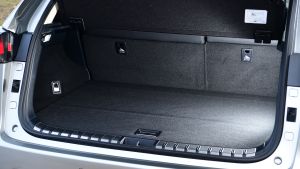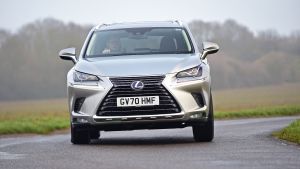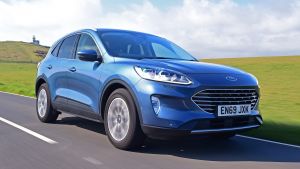 | | |
| --- | --- |
| Model: | Hyundai Tucson 1.6 T-GDi Hybrid Ultimate |
| Price:  | £37,195 |
| Engine:  | 4cyl in-line/1,598cc, 227bhp  |
| 0-62mph:  | 8.0 seconds |
| Test economy:  | 44.2mpg/9.7mpl  |
| CO2: | 131g/km |
| Annual road tax: | £140 |
ThIS is Hyundai's effort at a more premium SUV. It's a big change from its predecessor, not least when it comes to the powertrain. We're testing the £37,195 1.6 Hybrid in Ultimate trim.
Design & engineering
Given the previous Tucson's age, it's no surprise that this car is all new. It has moved to a fresh platform for the model, and employs an advanced hybrid powertrain, too. It uses a 1.6-litre four-cylinder petrol turbo engine working with an electric motor for a total combined output of 227bhp. That's a considerable amount, even in a family SUV such as this, while torque stands at 265Nm.
A 1.49kWh lithium-ion battery pack supplies that electric motor with power. This is small compared with a plug-in hybrid, but remember this system can't be charged from the mains. Instead, it recoups energy when slowing down, using the motor in reverse to charge the battery, or by syphoning off some power from the petrol engine. The car produces 59bhp from its motor alone, and it's keen to run solely on electric power, as we'll see.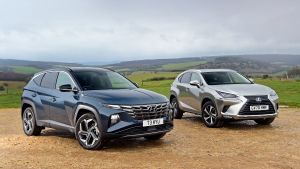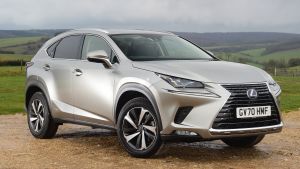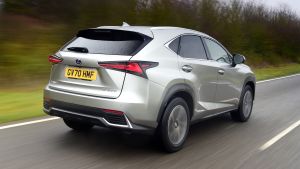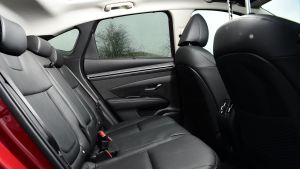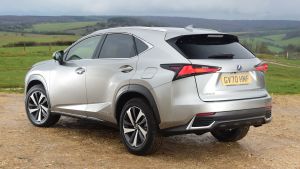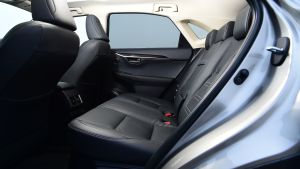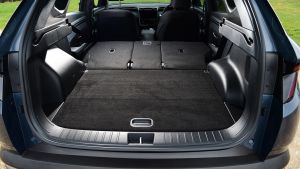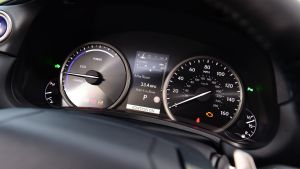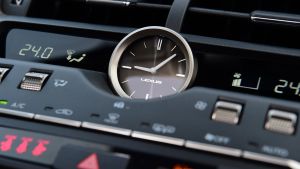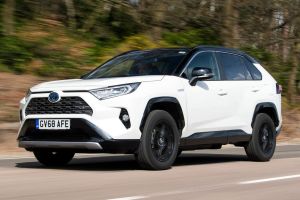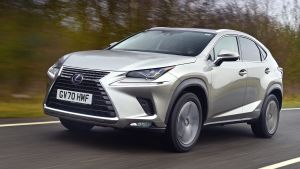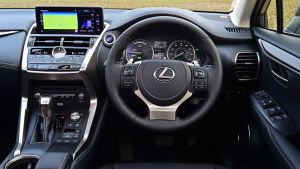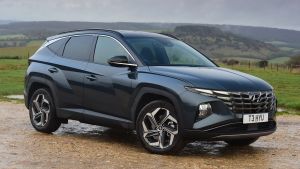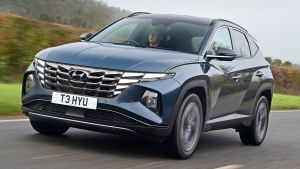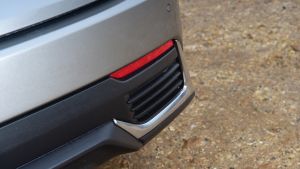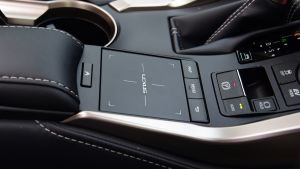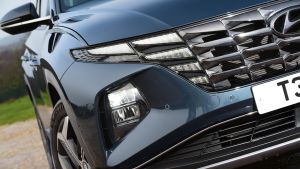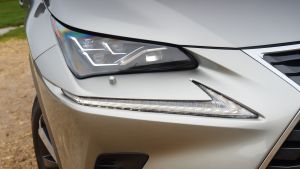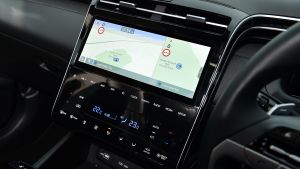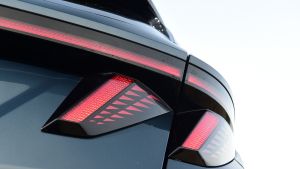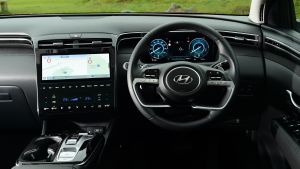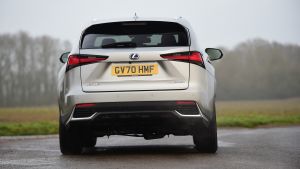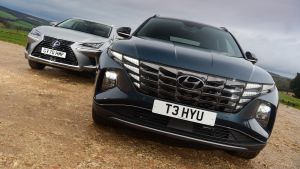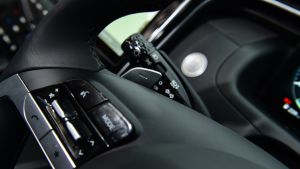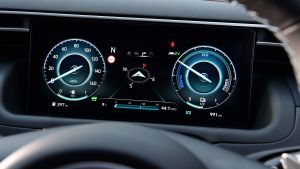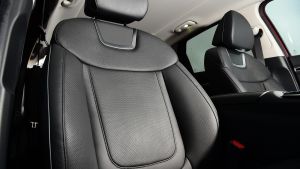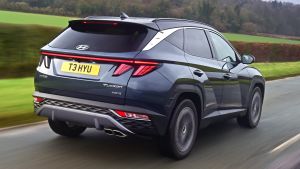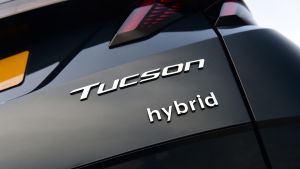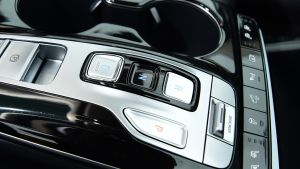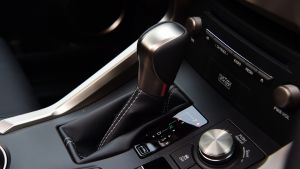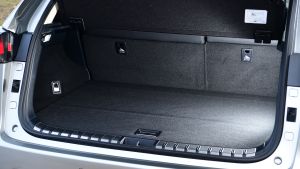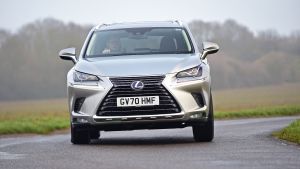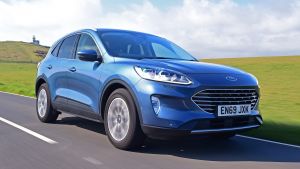 Hybrids are a key part of Hyundai's future strategy, and with that in mind the Tucson has been pushed upmarket to the point where, in top-spec trim, it competes with premium brands such as Lexus. Entry-level models also overlap with more mainstream competitors. While it costs £285 more than the NX 300h we're testing here (more at the lower end of their respective ranges), the Hyundai feels easily a match for the Japanese machine when it comes to build quality. The materials are good, too, with plenty of leather trim and soft-touch plastics in this range-topping Ultimate model, as well as a more modern, spacious, ergonomic and better thought-out cabin design.
It easily exceeds the Lexus for tech, too, highlighting the different eras in which these two cars were developed. Ultimate spec features everything you'd want plus many luxuries, including – but not limited to – 19-inch alloy wheels, electrically adjustable heated and cooled leather seats (even the outer rear seats are heated), three-zone climate control, heated steering wheel, keyless operation, 10.25-inch digital dash and a touchscreen infotainment system of the same size, good connectivity plus wireless charging.
Of course, LED headlights are standard fit, too, but the more interesting lighting feature on the Tucson are its jewel-like LEDs around the grille.
Driving
It's easy to tell how far hybrid tech has moved on when driving these two machines back-to-back. The Tucson is much keener to run on electric power for longer; you can push the throttle pedal further than you might think before the petrol engine cuts in, whereas the NX's unit is keener to get involved.
When lifting off the throttle at speed the Hyundai also cuts its engine a lot, helping boost efficiency. It's a smooth transition as well, and given how refined the car is, you might not always be aware of the system doing its thing. One other benefit over the Lexus is that the Korean model's gearbox gives you a more direct connection with the powertrain, and it shifts smoothly, too. The NX's CVT is far from bad, but in the Hyundai things feel more responsive and therefore progress is easier.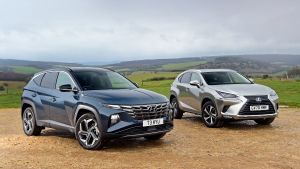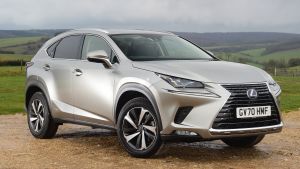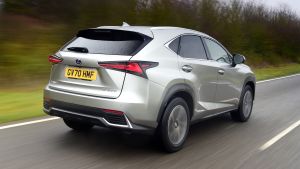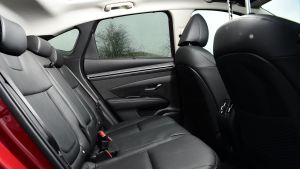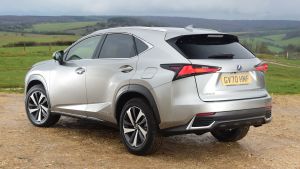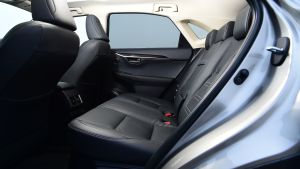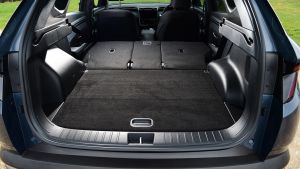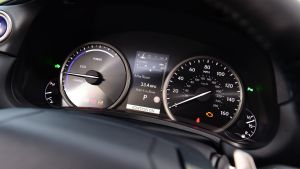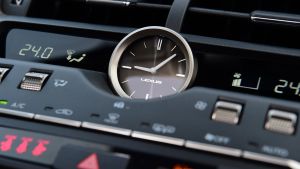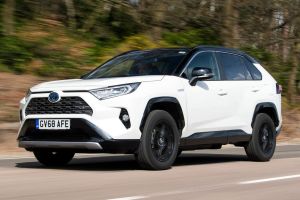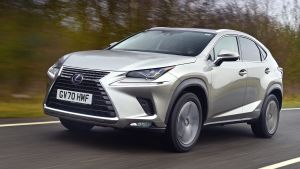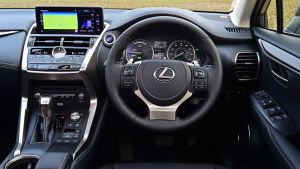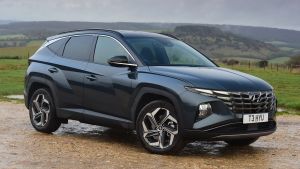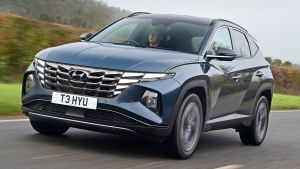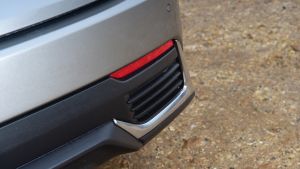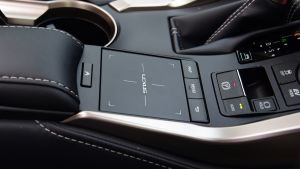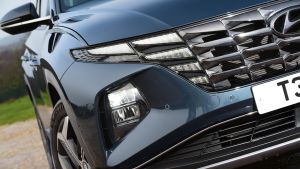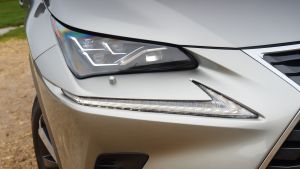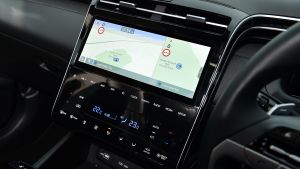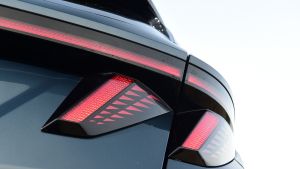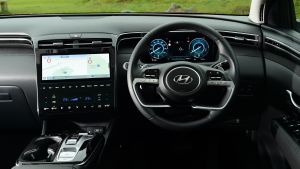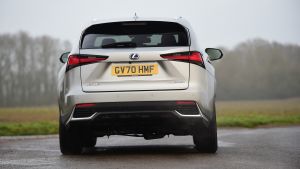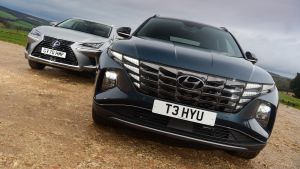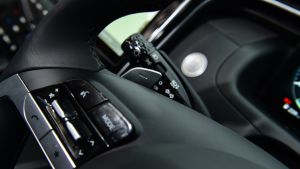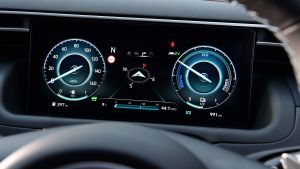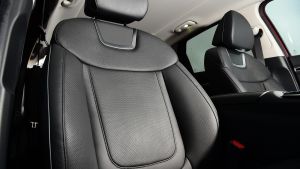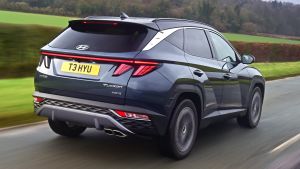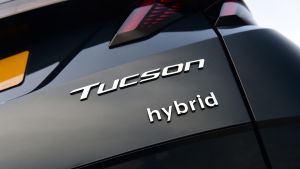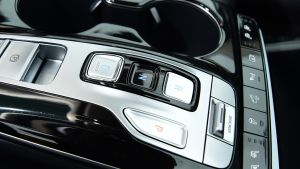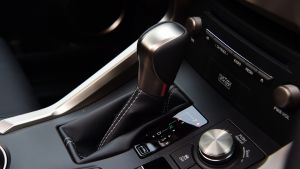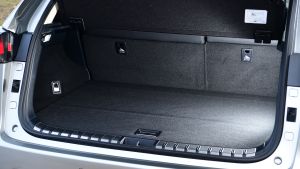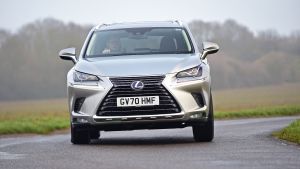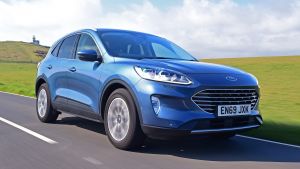 The electric motor's boost of torque fills in for the petrol engine, with the 1.6-litre unit seemingly assisting the electric motor a lot of the time around town. It feels the other way round in the Lexus. Only when you ask for maximum performance does the Tucson's powerplant start to get a little rowdy, but even then, with a 0-62mph time of 8.0 seconds, at least there's enough grunt.
On 19-inch wheels, the ride is acceptable but a little lumpy over bad surfaces. It feels firmer than the NX's, yet the Lexus also suffers from a similar trait of thumping into potholes. You can't hide the weight of the batteries in these cars, it seems.
Practicality
At 616 litres with the rear seats in place, the Hyundai's boot has a huge advantage over the 475-litre load area offered by the Lexus. There's also a powered tailgate as standard. The Tucson's packaging is just better, with more space in the rear for passengers. A dashboard that slopes away from you also means it feels more spacious in the front, while there's a good level of storage and connection points for your devices.
It's quite a big machine, and the window line compromises over-the-shoulder visibility just a little. Luckily, you get a 360-degree camera and all-round parking sensors as standard.
Ownership
You also get a lot of standard safety kit: autonomous braking with lane-keep assist; blind-spot warning with collision avoidance; collision warning; pedestrian and cyclist detection; cross-traffic warning; plus semi-autonomous adaptive cruise control with lane-follow assist. Euro NCAP hasn't yet tested the new Tucson, but with all this available (and standard on Ultimate trim), we'd expect a strong rating.
Hyundai is known for its five-year/unlimited-mileage warranty as well, which should give peace of mind. However, owners have reported mixed results with the manufacturer's cars, because Hyundai took a mid-table 13th position in our latest Driver Power satisfaction and reliability survey.
Running costs
The Lexus just has the edge over the Hyundai when it comes to predicted depreciation. The NX is expected to retain 50.2 per cent of its value after three years/36,000 miles, which equates to a residual value of £18,525, whereas the Tucson is predicted to hold on to 49.5 per cent, or £18,426 – there's not much in it.
Testers' notes
"The Tucson has a great little feature; cameras point down either side, and when you indicate, the dash displays a picture showing what's in your blind spot."
Lexus NX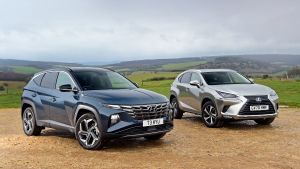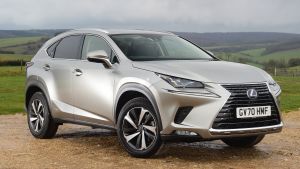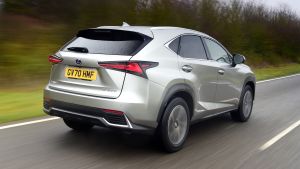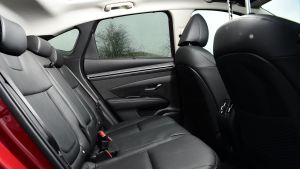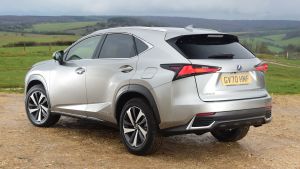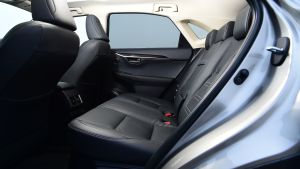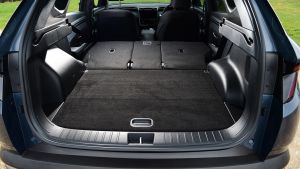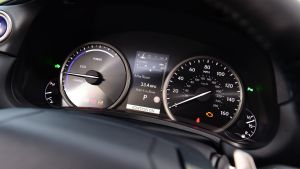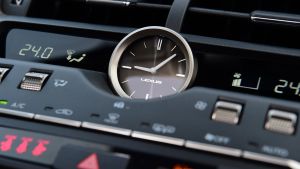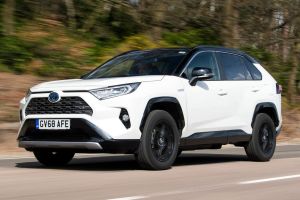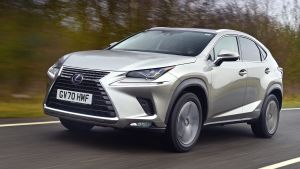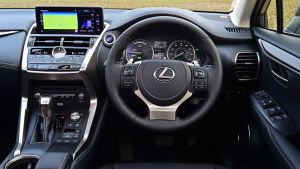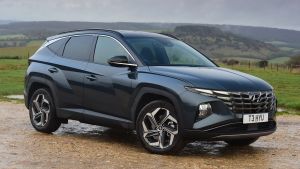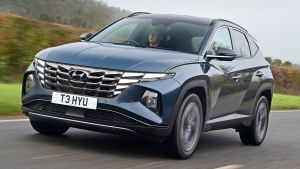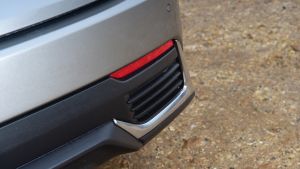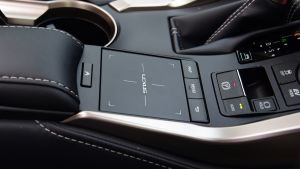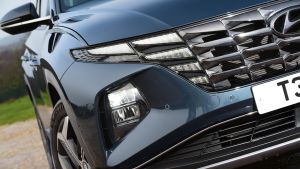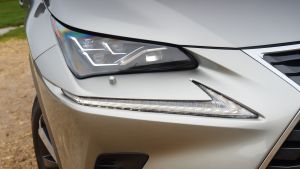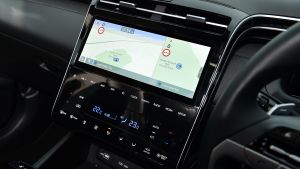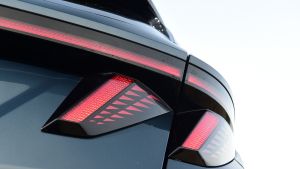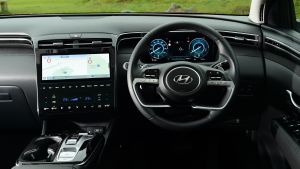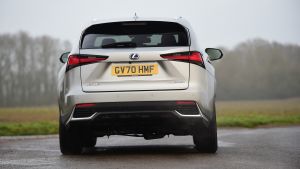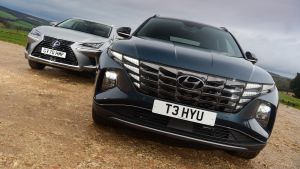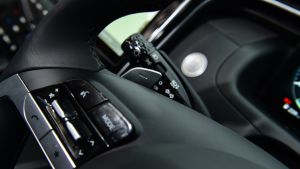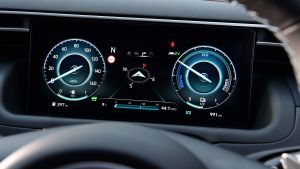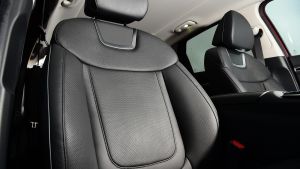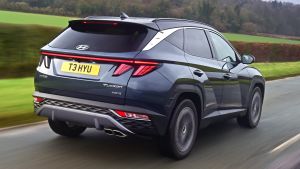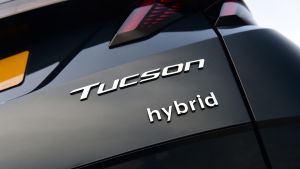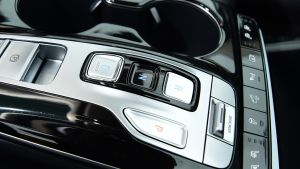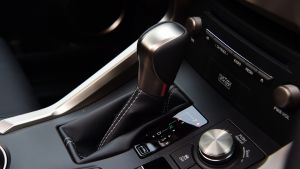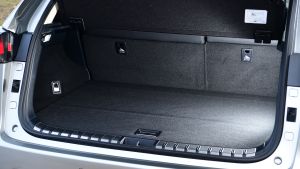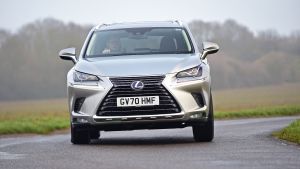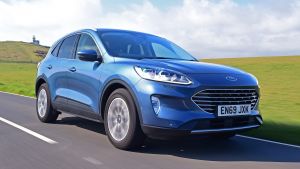 | | |
| --- | --- |
| Model: | Lexus NX 300h Navigation |
| Price:  | £36,910 |
| Engine: | 4cyl in-line/2,494cc, 195bhp  |
| 0-62mph: | 9.2 seconds |
| Test economy: | 36.9mpg/8.1mpl  |
| CO2: | 161g/km |
| Annual road tax: | £140 |
Lexus has been plugging away with its hybrid tech in a premium SUV package for years, and with a shift away from diesel and towards petrol hybrids over that time, the NX is more relevant than ever. We're testing the £36,910 300h with Nav to match the Hyundai (our pictures show Takumi trim).
Design & engineering
Unlike some more modern Lexus machines, the NX's platform is not related to Toyota-Lexus's New Global Architecture. Instead, it's based on older tech. It packs a small nickel metal-hydride battery compared with the more advanced lithium-ion battery in the Tucson. This feeds a 141bhp electric motor, while a 153bhp 2.5-litre four-cylinder Atkinson-cycle petrol engine supports it. Combined system output is 195bhp, and while there are four-wheel-drive NX models available (the rear axle is driven electrically), this car is only two-wheel drive to match its Korean rival.
A CVT gearbox is fitted, and as with the Hyundai there are different driving modes to choose from. In the Lexus, just as in the Tucson, these change the digital instrument display, but both are best left in their default settings to maximise efficiency. While Lexus has developed more advanced control systems to get the most from the powertrain, there's no denying it's older technology than the Hyundai – and this is clear when you're on the move.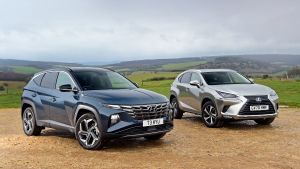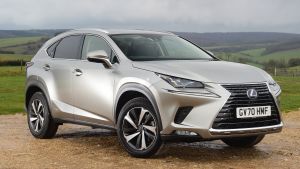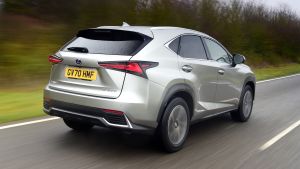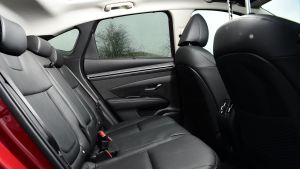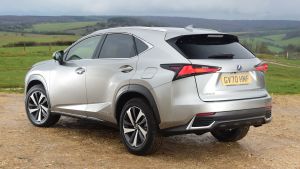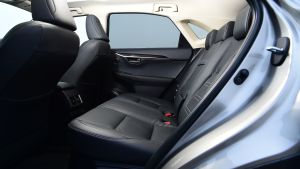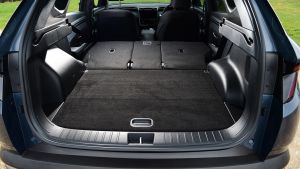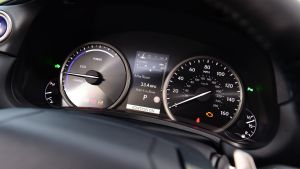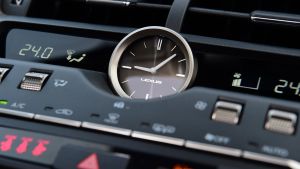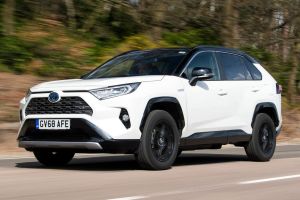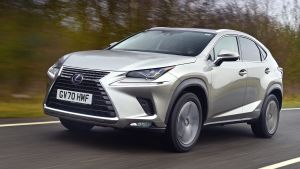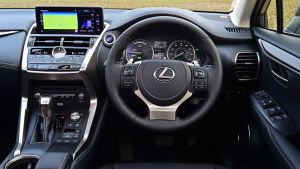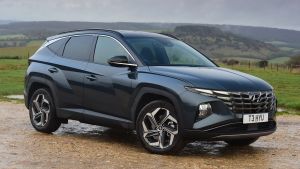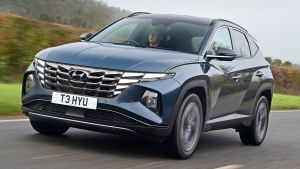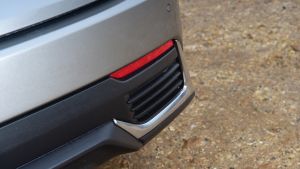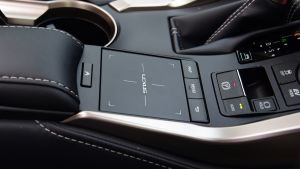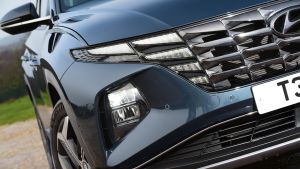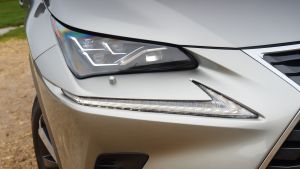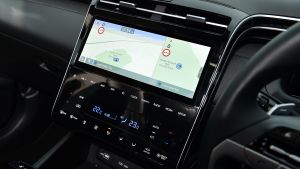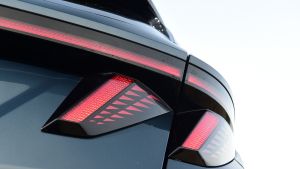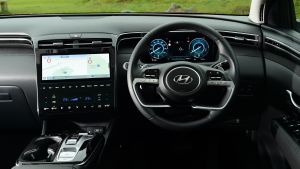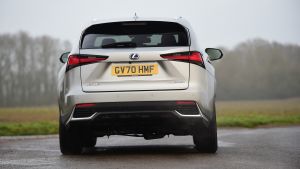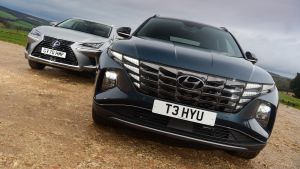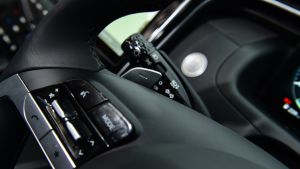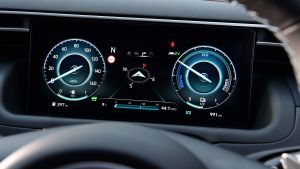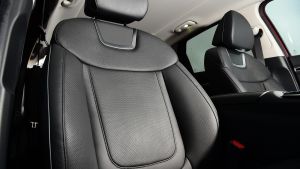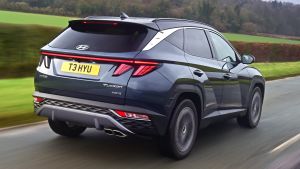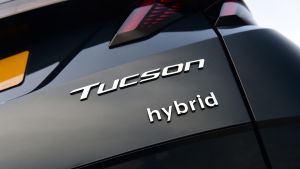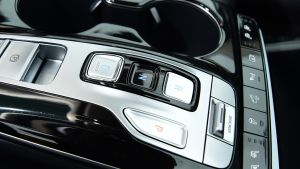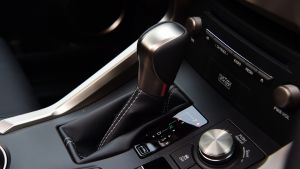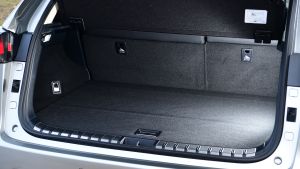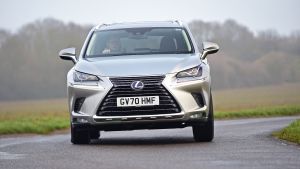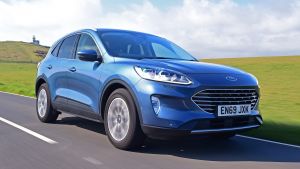 The chassis set-up is similar, though, with MacPherson struts for the front suspension and an independent rear set-up. On the Lexus, though, the latter is a double-wishbone arrangement, whereas the Hyundai features a multi-link rear axle.
Material quality inside the Lexus is great, as is the solidity of its build, but compared with its competitor the NX's cabin really lacks any visual flair. We know it was designed in an era before touchscreens were commonplace, but this does show. Ergonomically the interior is not as good, even though it pretty much matches the Hyundai with regards to the kit you'd want.
Driving
The NX isn't keen to run on electric power for as long as the Tucson. Touch the throttle for anything more than gentle acceleration, and the petrol engine fires up. And while the electric motor does a good job of assisting when both are running, the Hyundai's powertrain feels more sophisticated and stronger – yet that's no surprise given the extra muscle.
The NX will complete the 0-62mph run in 9.2 seconds, which is adequate for most people. However, hybrids such as these are more about maximising efficiency and refinement.
But on that point, while Lexus has developed its CVT gearbox to avoid the rubber-band feel you sometimes get with this technology, when you ask for even an average amount of throttle the engine revs do flare up. The noise it makes isn't that great, either, so this does impact refinement. The Tucson's powertrain is generally better behaved.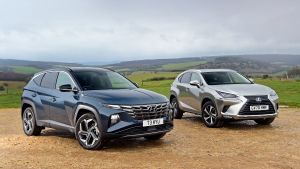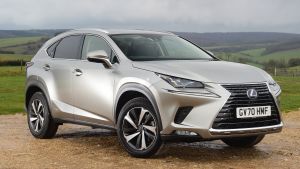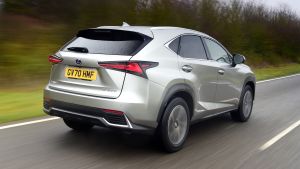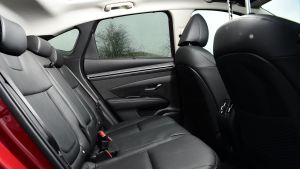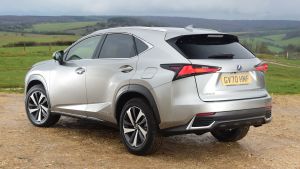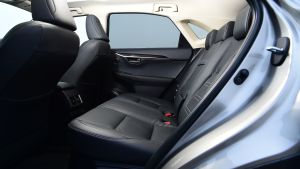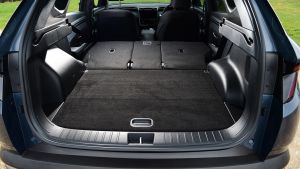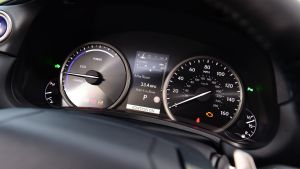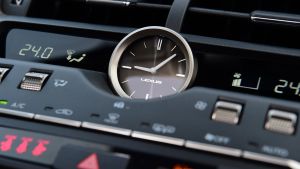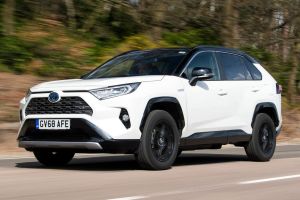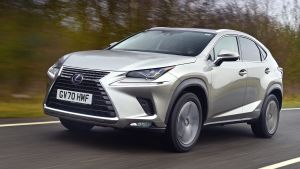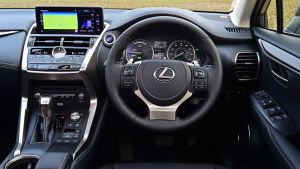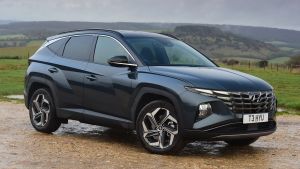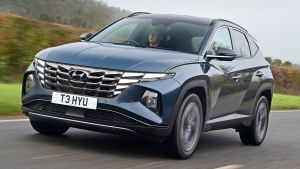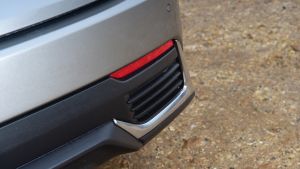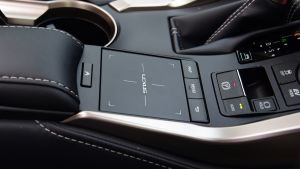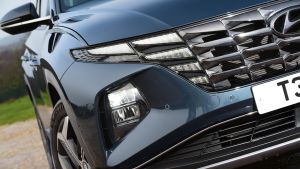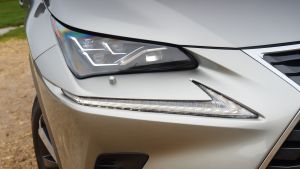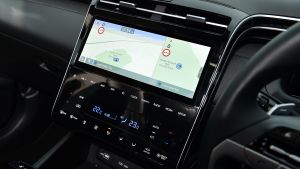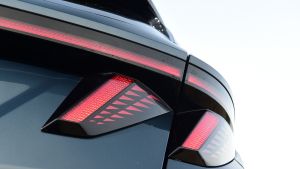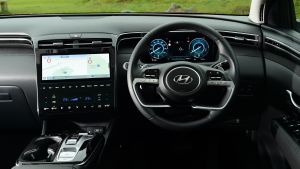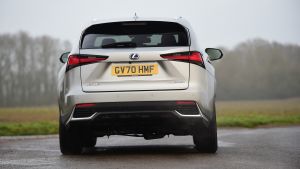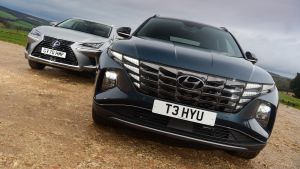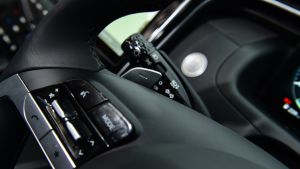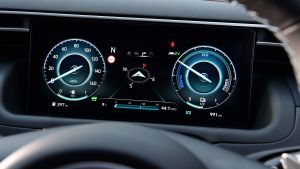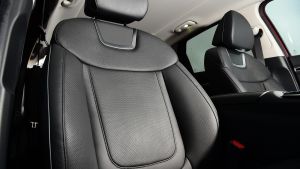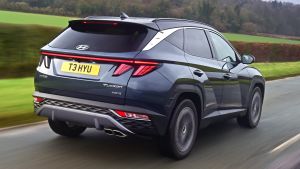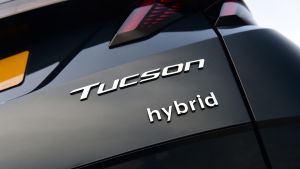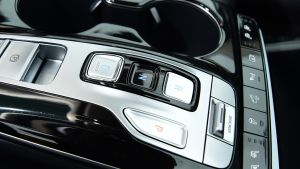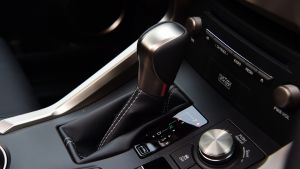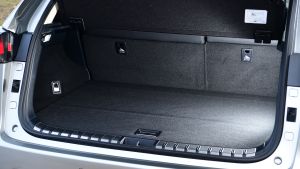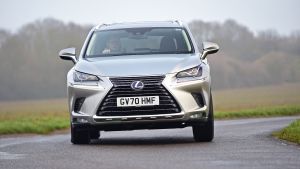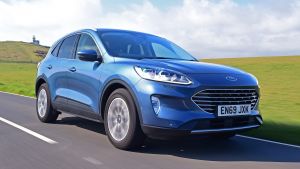 The Lexus does offer a nicely cushioned ride most of the time, with a soft set-up that delivers a decent level of comfort on the motorway. However, just like the Tucson, the NX lumbers over bumpy roads, with the wheels sometimes aggressively thumping into potholes and rebounding sharply, too.
It's not an agile machine. The steering is light and devoid of feel (but then the Tucson offers little in the way of connection between car and driver, either), and you do sense the NX's chunky 1,785kg kerbweight, which is 221kg more than the Tucson's.
Practicality
Despite the Lexus occupying a similar space on the road, its boot is much smaller than the Tucson's, at 475 litres. There's no powered tailgate as standard, either; on this model it's part of a £2,175 pack that also adds keyless operation and wireless charging.
There's a good level of rear passenger room, but the front of the NX's interior doesn't feel as open or as spacious as in the Hyundai. The dashboard juts out at you with a big centre stack, which doesn't help matters – plus it limits storage options. At least in this spec, with the parking and nav packs added, you get sensors and a reversing camera as standard.
Ownership
Here is where Lexus strikes back, because it always performs well with owners in our annual Driver Power reliability and satisfaction survey. In 2020 it came top in both the manufacturer and dealer sections of our poll, with the brand's cars praised for their powertrains, interiors and safety.
On that last subject, the NX scored a full five-star Euro NCAP rating when it was tested (albeit back in 2014). It features Lexus's Safety System+, which includes autonomous braking, lane-keep and blind-spot assist, eight airbags, adaptive high beam for the LED lights, lane-trace assist, traffic- sign recognition and adaptive cruise.
Running costs
Hybrids are all about efficiency, so petrol-electric models such as the SUVs tested here have to deliver good fuel economy to appeal. The fresher technology in the Tucson meant it was more economical during our test, returning 44.2mpg for an annual fuel bill (12,000 miles) of £1,485. The Lexus still proved its worth, returning 36.9mpg for a total of £1,778 a year, but the Tucson is clearly more efficient.
The same is true when it comes to calculating company car tax. The Hyundai emits 30g/km of CO2 less, at 131g/km, for a Benefit-in-Kind tax rating of 29 per cent. This means higher-rate earners will pay £4,285 a year to run the Tucson as a company car, while the Lexus – which sits in the 35 per cent Benefit-in-Kind band – will cost the same user-chooser £5,086 a year to operate.
Testers' notes
"A hybrid might not be your first choice if you intend to pull a trailer or caravan, but the NX's maximum weight is 150kg less than the Tucson's, at 1,500kg."
Verdict
First place: Hyundai Tucson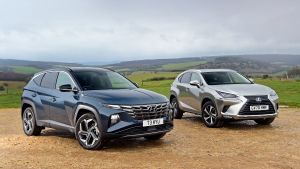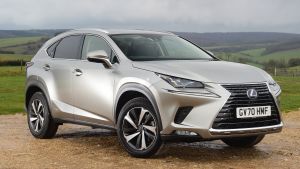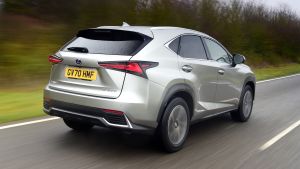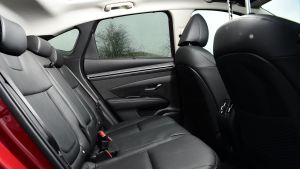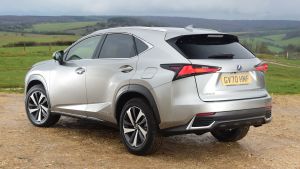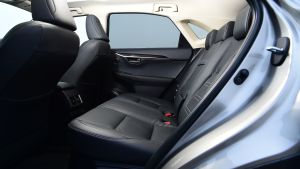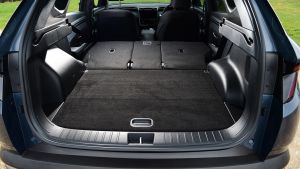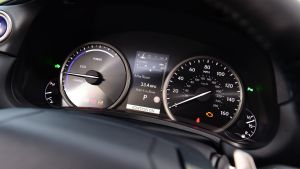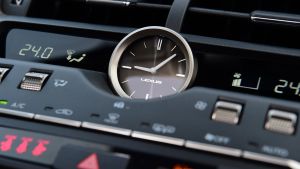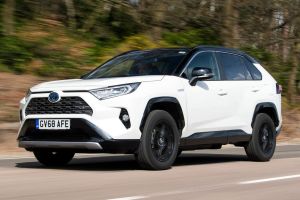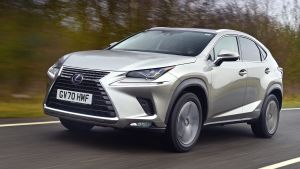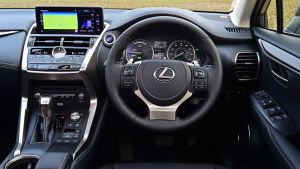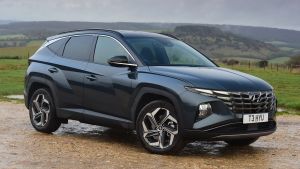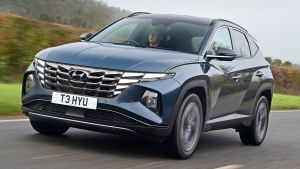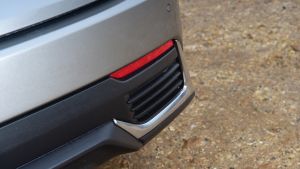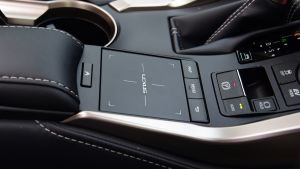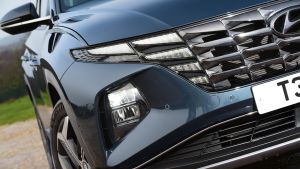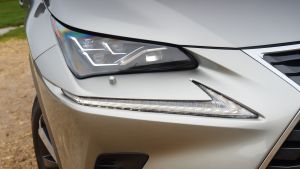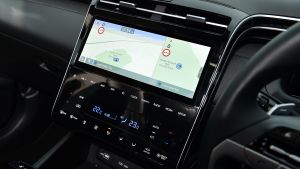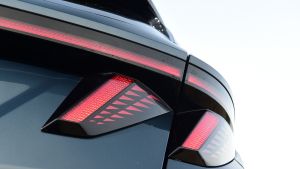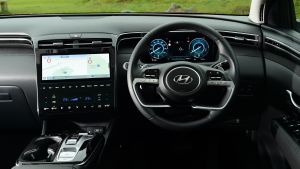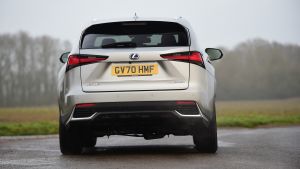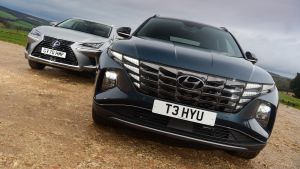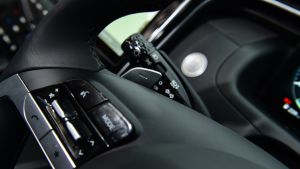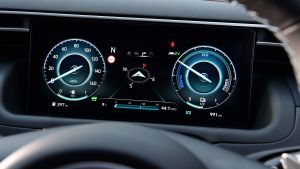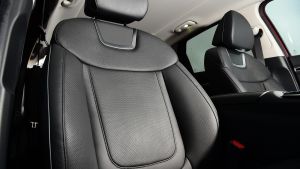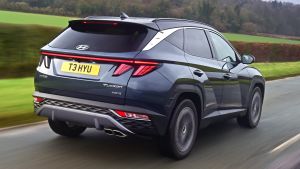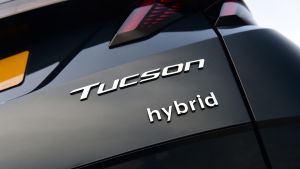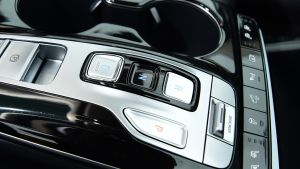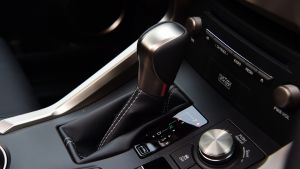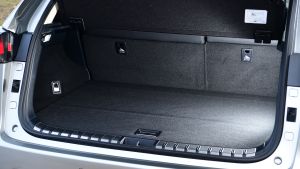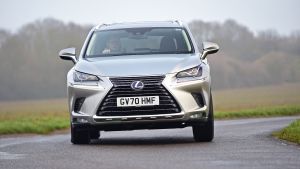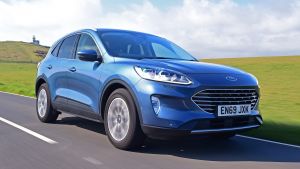 With the Tucson Ultimate, Hyundai is proving that it can do premium as well as established brands such as Lexus. It's efficient, smooth and refined, and makes the most of its electrification, while there's a lot of tech, masses of practicality, and plenty of quality. It's so-so to drive, but it'll be cheap to run just as a hybrid should be – even if there's stronger value lower down the range.
Second place: Lexus NX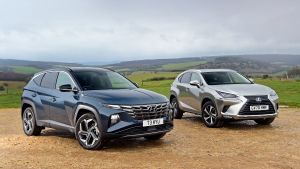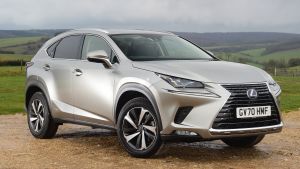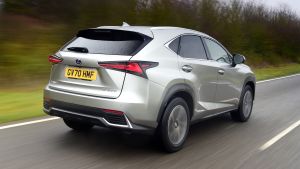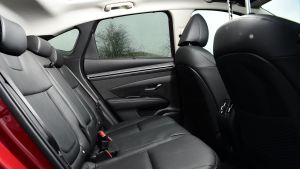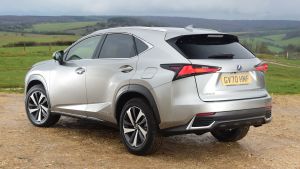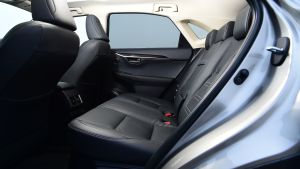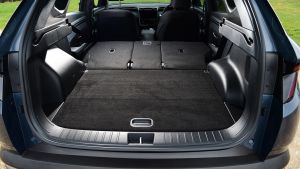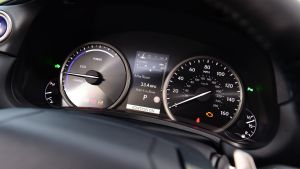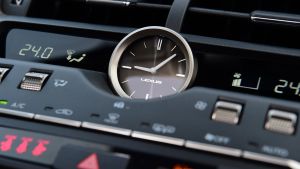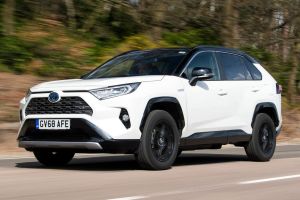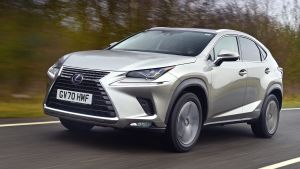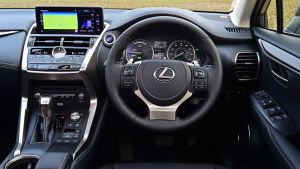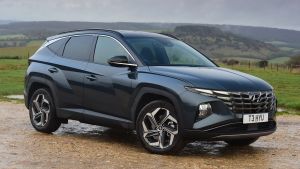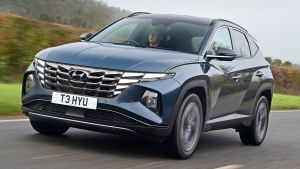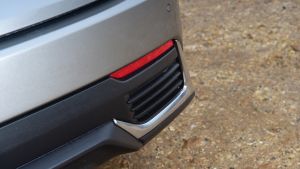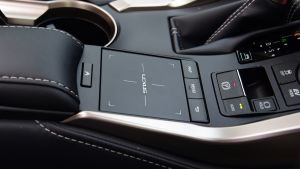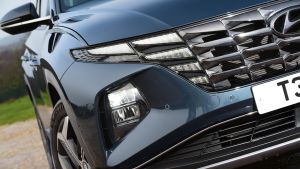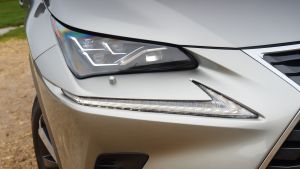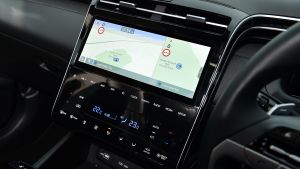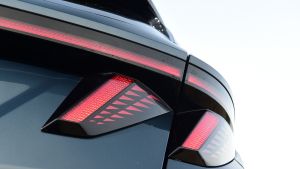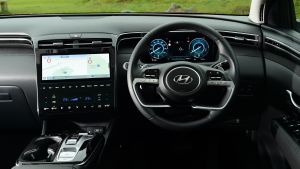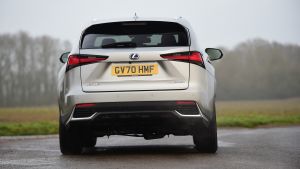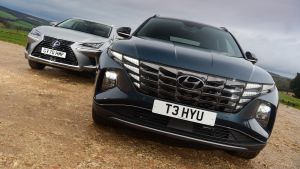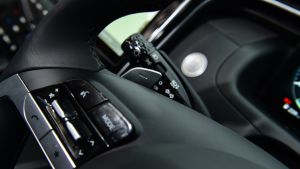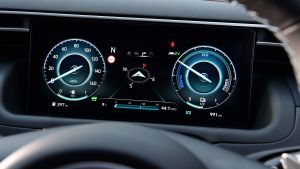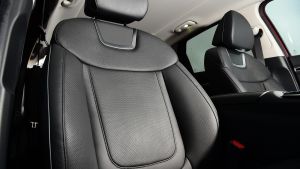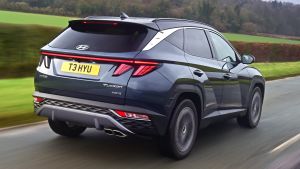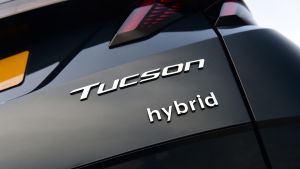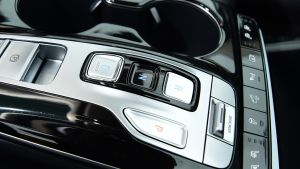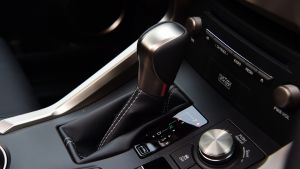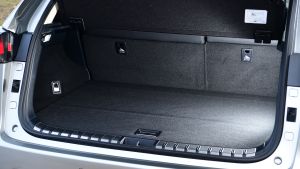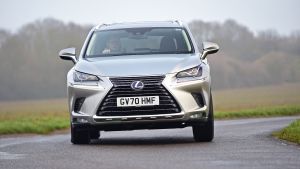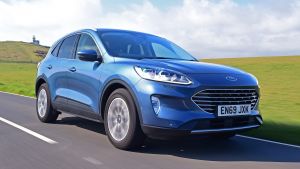 The NX is showing its age next to a more modern hybrid set-up such as the Tucson's, but a political shift over the years has worked to the car's advantage; it's more relevant than ever in 2021. It's a relatively relaxing, easy-going car, yet it still loses out to the newer, more advanced Hyundai in nearly every area – the infotainment and electrified element of the powertrain in particular. 
Also consider…
Ford Kuga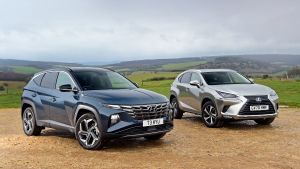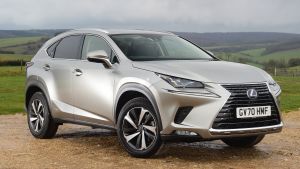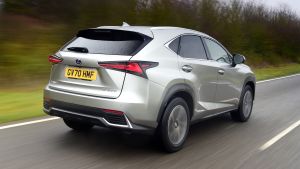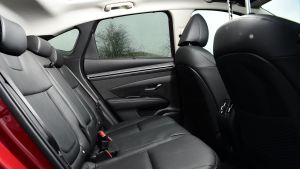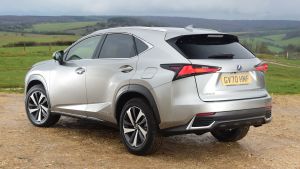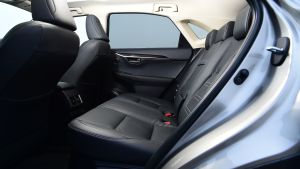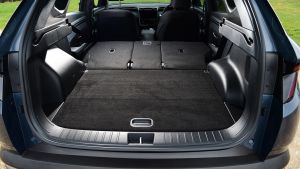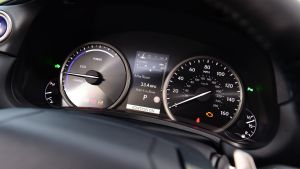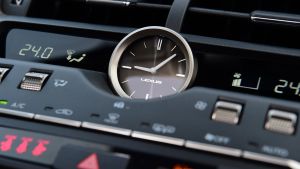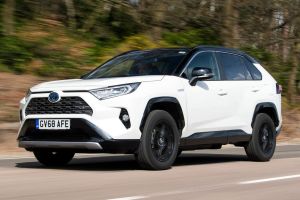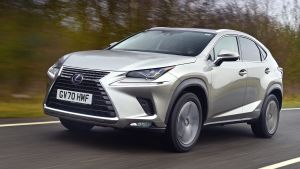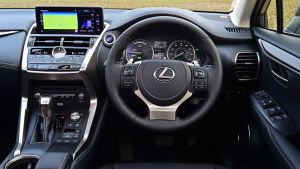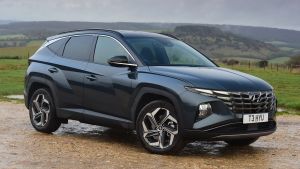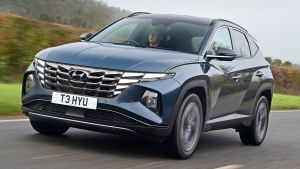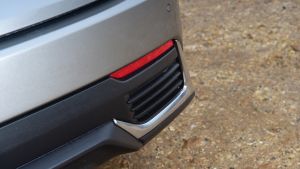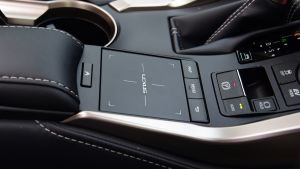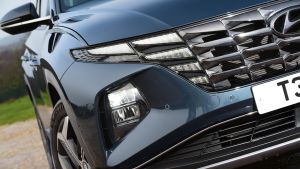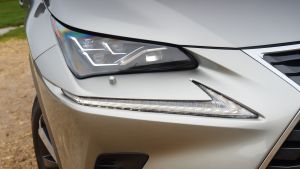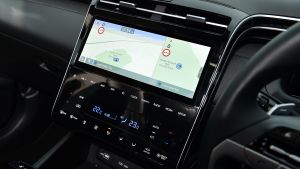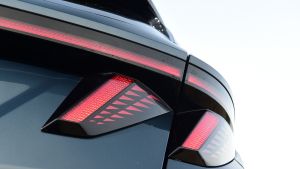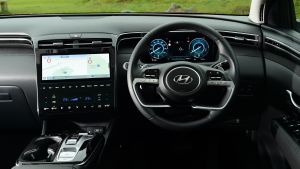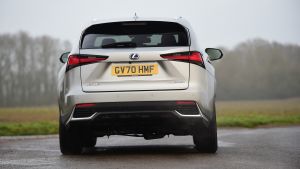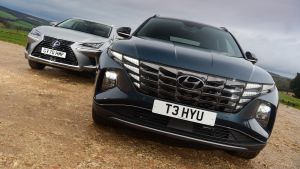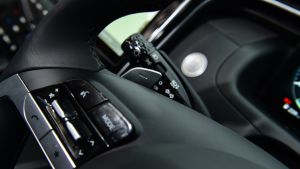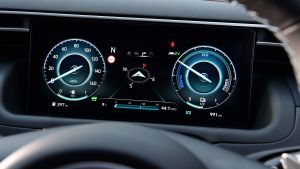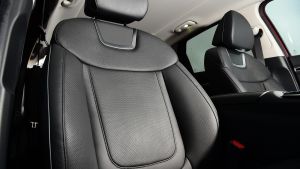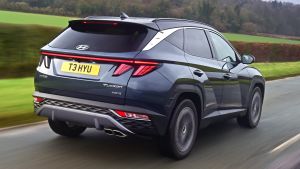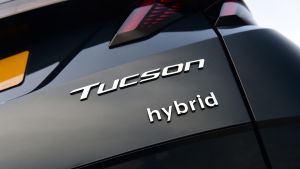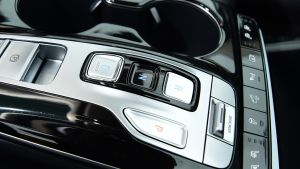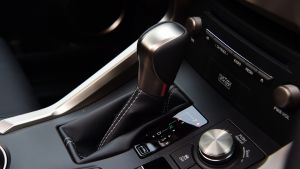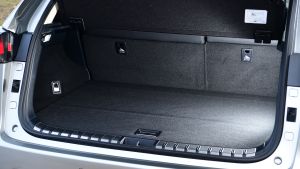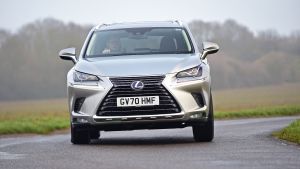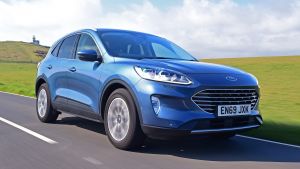 Model: Ford Kuga 2.5 Duratec 190 HEV
Price: £33,600 
Engine: 2.5-litre 4cyl, 189bhp
Another option for those who want a hybrid that you don't have to plug in is the Kuga. It offers great practicality, good tech and plenty of kit in ST-Line Edition spec. However, it does use a CVT gearbox like that in the Lexus, rather than a proper auto.
Toyota RAV4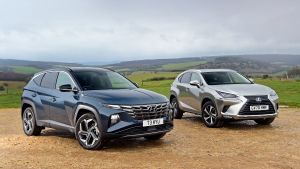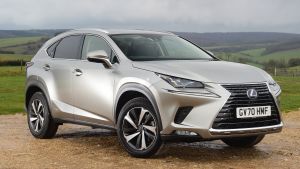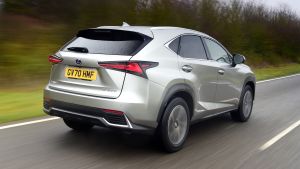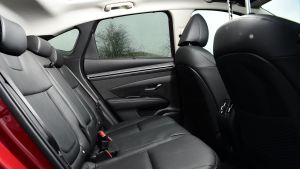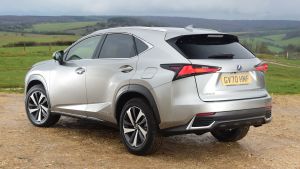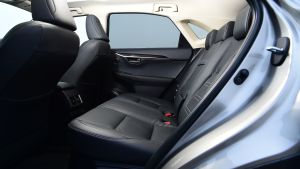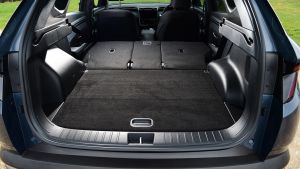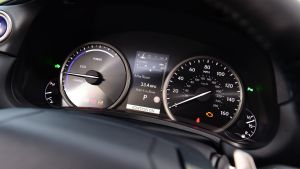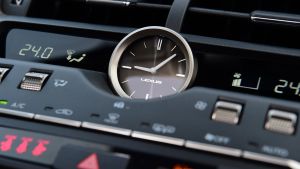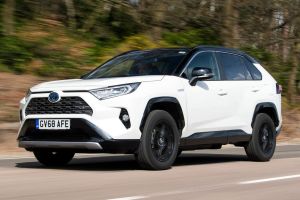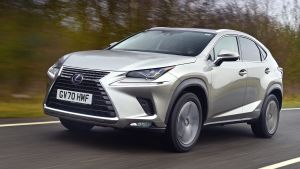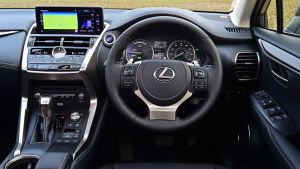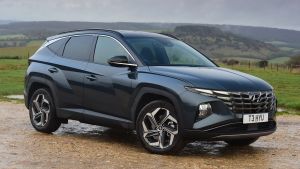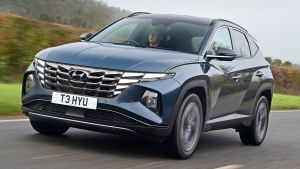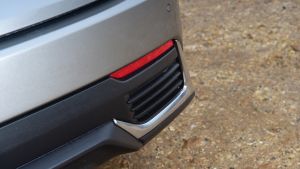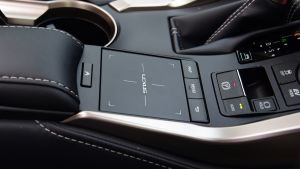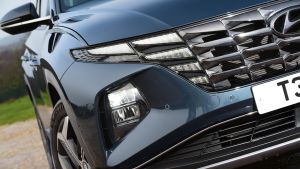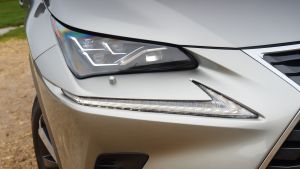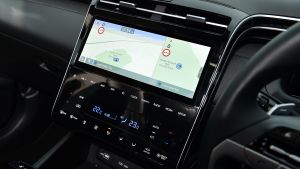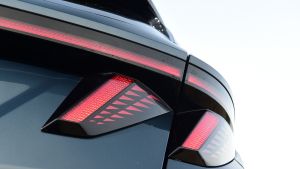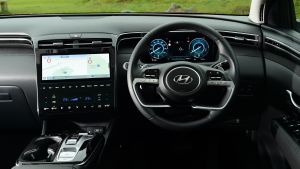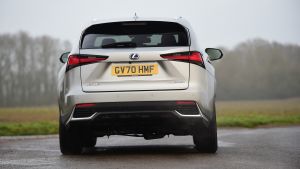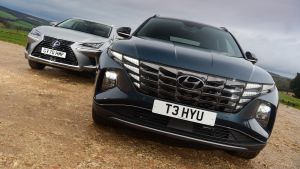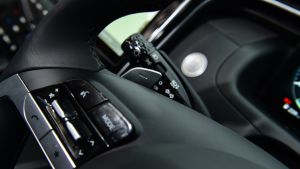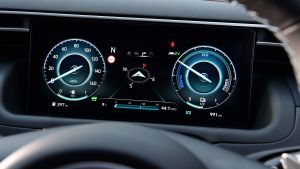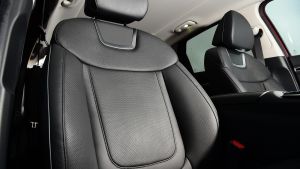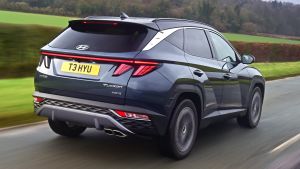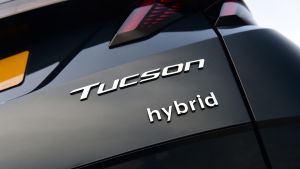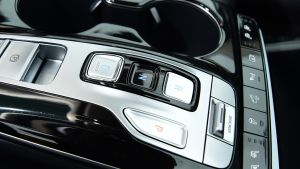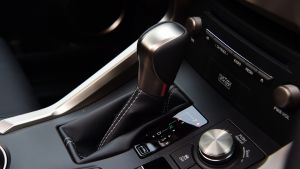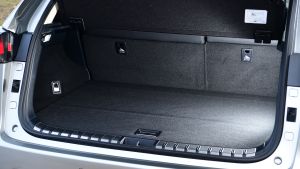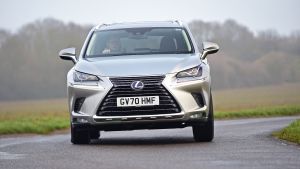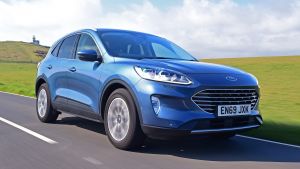 Toyota RAV4 2.5 VVT-i
Price: £31,090 
Engine: 2.5-litre 4cyl, 214bhp
Think of a hybrid SUV and the RAV4 will be close to the top of the list. As with the Lexus, the Toyota can be had with four or front-wheel drive and comes generously equipped across all of its trim levels. There's even the option of a plug-in hybrid.
Figures
| | | |
| --- | --- | --- |
|   | Hyundai Tucson 1.6 T-GDi Hybrid Ultimate | Lexus NX 300h Navigation |
| On the road price/total as tested | £37,195/£37,860 | £36,910/£36,910 |
| Residual value (after 3yrs/36,000) | £18,426/49.5% | £18,525/50.2% |
| Depreciation | £18,769 | £18,385 |
| Annual tax liability std/higher rate | £2,142/£4,285 | £2,543/£5,086 |
| Annual fuel cost (12k/20k miles) | £1,485/£2,475 | £1,778/£2,964 |
| Ins. group/quote/VED | 23/£424/£140 | 28/£528/£140 |
| Cost of 1st/2nd/3rd service | £174/£259/£183 | £445 (two years) |
| Length/wheelbase | 4,500/2,680mm | 4,640/2,660mm |
| Height/width | 1,615/1,865mm | 1,645/1,845mm |
| Engine | 4cyl in-line/1,598cc | 4cyl in-line/2,494cc |
| Peak power/revs  | 227/5,500 bhp/rpm | 195/5,700 bhp/rpm |
| Peak torque/revs  | 265/1,500 Nm/rpm | 210/4,200 Nm/rpm^  |
| Transmission  | 6-spd auto/fwd | CVT auto/fwd |
| Fuel tank capacity/spare wheel | 52 litres/repair kit | 56 litres/repair kit |
| Boot capacity (seats up/down) | 616/1,795 litres | 475/1,520 litres |
| Kerbweight/payload/towing weight | 1,564/611/1,650kg | 1,785/490/1,500kg |
| Turning circle | 10.9 metres | 12.1 metres |
| Basic warranty (miles)/recovery | 5yrs (unlimited)/5yrs | 3yrs (60,000)/3yrs |
| Driver Power manufacturer/dealer pos | 13th/11th | 1st/1st |
| NCAP: Adult/child/ped/assist/stars | TBC | 82/82/69/71/5 (2014) |
| 0-62mph/top speed | 8.0 secs/120mph | 9.2secs/112mph |
| Auto Express economy/range | 44.2mpg/506 miles | 36.9mpg/455 miles |
| WLTP combined | 49.6mpg | 39.7mpg |
| WLTP combined  | 10.9mpl | 8.7mpl |
| Actual/claimed CO2/tax bracket  | 148/131g/km/29% | 177/161g/km/35% |
| Airbags/Isofix/park sensors/camera | Yes/yes/F&R/yes | Eight/yes/yes/yes |
| Auto box/lane keep/blindspot/AEB | Yes/yes/yes/yes | Yes/yes/yes/yes |
| Clim ctrl/cruise/leather/heated seats | 3-zone/adapt/yes/yes | 2-zone/adapt/yes/yes |
| Met paint/LEDs/keyless/pwr tailgate | £665/yes/yes/yes | £670/yes/£2,175*/£2,175* |
| Sat-nav/digi dash/DAB/connect services | Yes/yes/yes/yes | Yes/yes/yes/yes |
| Wireless charge/CarPlay/Android Auto | Yes/yes/yes | £2,175*/yes/yes |