New Volkswagen ID.3 convertible could be on the way
Volkswagen executives could soon give the green light to a convertible version of the ID.3 electric hatchback, after the brand's CEO, Ralf Brandstätter, released these official renders on social media to preview the new car's styling.
Brandstätter hasn't yet confirmed when we'll see the finished car. For now, all he's said is that the ID.3 convertible makes for "a very tempting idea," meaning Volkswagen is likely still gauging public interest before throwing its weight behind the project.
If Volkswagen can put the drop-top ID.3 into production before the new Tesla Roadster, it'll be the first four-seat convertible EV on the market. It'll also sit in a niche of its own, as its SUV-shaped rivals from Hyundai and Kia don't lend themselves well to drop-top conversions.
What's more, MINI has already confirmed that its convertible hatchback won't see another generation. The petrol model is a particularly slow seller for the brand, which means MINI won't make the body style available with its electric powertrain, removing another rival for the ID.3 convertible's path.
Volkswagen's official renders show the convertible ID.3 will lose its two rear doors as part of the redesign. To make space for the folding fabric soft top, the standard tailgate will also be swapped for a shorter unit, which could hinge downwards like the MINI Convertible's.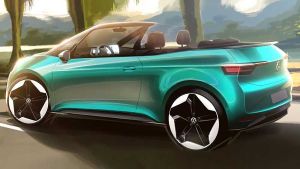 Both of these changes will eat into rear passenger space and the ID.3's 385 litre boot could be slashed to around 200 litres. However, like the MINI Convertible, we expect buyers will be willing to put up with the limited practicality for the extra style.
Using the MEB platform, the ID.3 convertible would have access to the same electric motors and battery packs as its hatchback sibling. The entry-level Pro model would feature a 58kWh battery and a 143bhp electric motor mounted on the rear wheels.
Like the hardtop, Volkswagen could also offer a Pro Performance variant, which features the same battery pack, but a more powerful 201bhp electric motor. However, the added weight of the drop-top could reduce the EV's range slightly over the hatchback's 263-mile maximum.
Would you like to see Volkswagen put the ID.3 convertible into production? Let us know in the comments section below…