Nissan to launch new Juke-sized electric car
Nissan is gearing up to launch a Juke-sized electric SUV, as it looks to expand its EV line-up in the UK and Europe. The new model will use a shortened version of the electric-specific CMF-EV architecture that is used by Nissan's forthcoming Ariya SUV and Renault's electric Mégane crossover, which will be the same size as the new Nissan.
Last year, Nissan Europe's head of EV, Helen Perry, told Auto Express: "A platform investment is huge. For sure, there will be usage for the [CMF-EV] platform for something more than Ariya. We wouldn't have invested in a brand-new Alliance platform unless there was other usage planned."
Further details have since emerged, with Nissan Europe's general manager for product planning, Nicolas Bozek, also hinting that additional models were in the pipeline. Speaking with Auto Express about Nissan's new E-4ORCE electric four-wheel drive system – which will appear first on the Ariya SUV – Bozek confirmed that the technology would feature on other cars in the future: "We think it will have a place down the road in other models," he told us.
"We are quite strong in the B-segment [supermini SUV class]," Bozek said. "It could be quite interesting on this kind of car."
Nissan's E-4ORCE set-up uses individual electric motors fitted to the front and rear axles. Nissan claims that the system allows greater control in all types of driving; 'high-precision torque control' suppresses pitch and roll, which allows the car to remain flat when cornering, as well as under hard braking.
As with the Ariya, more affordable front-wheel-drive versions of the electric Juke-sized crossover will be offered. These are likely to make up the vast majority of sales, as customers look to make the switch from petrol to electric.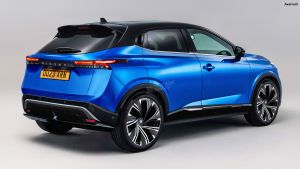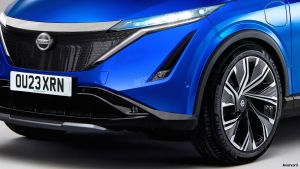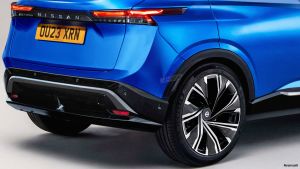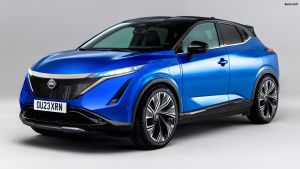 Our exclusive images show how the new supermini SUV could look. The Ariya's distinctive face, blanked-off grille and slim daytime running lights are expected to feature, as well as smaller versions of that car's aerodynamic wheels. Expect range-topping Juke EVs to sport a two-tone paint finish with a contrasting roof.
Further variations, including a coupé-styled variant, are possible, with Perry confirming that style will become an increasingly important factor in Nissan's future design language.
"What is important to [our customers]? Not only in terms of electrification, but also in terms of body style," Perry said. "Electrification will become the norm and body style will become more relevant, because the choice will be wider."
Thanks to the packaging benefits of an EV-specific platform, the new small SUV will likely be more spacious than the Juke. Expect a totally flat floor from front to rear, which will be aided by the relocation of the air conditioning system to under the bonnet.
Charging stats won't be confirmed for a while, but expect the Juke-sized EV to use the same 100kW CCS rapid charging as the Ariya. It's likely the new SUV will feature that car's smaller 63kWh battery for a range of around 250 miles, while a more affordable, shorter-range version with a smaller battery is possible.
Given that the brand's Ariya EV is set to start from less than £40,000, a Juke-sized model is likely to cost closer to £30k – making it a direct rival for small electric SUVs such as the Vauxhall Mokka-e, Peugeot e-2008 and Hyundai Kona Electric (below).
Rivals: what the electric Juke needs to beat
Vauxhall Mokka-e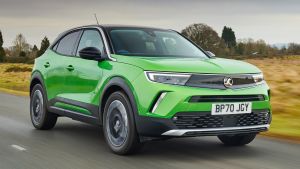 Price from: £30,540 (incl PiCG)
One newcomer to the electric crossover class is the eye-catching Mokka-e. While the Nissan rides on a dedicated EV platform, the Mokka's CMP-based layout must cater for piston power, too. The Nissan's design promises superior cabin space and overall range, but the Mokka-e's similarity to combustion models offers familiarity for first-time EV buyers.
Peugeot e-2008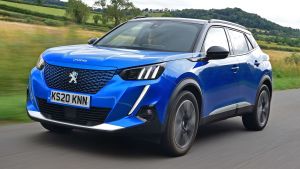 Price from: £30,730 (incl PiCG)
Under the skin, the e-2008 shares its platform and powertrain with the Mokka-e above. That means it uses the same 134bhp electric motor that drives the front wheels, a 50kWh battery offering a 206-mile range, and 100kW rapid charging is available. If Nissan wants to turn on the style, then it'll need to compete with the e-2008's mix of a sharp-suited exterior and a dramatic, well finished cabin.
Hyundai Kona Electric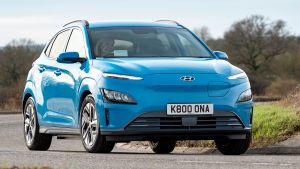 Price from: £27,950 (incl PiCG)
In many areas, the Kona Electric continues to set the class standard. Revisions for 2021 have introduced a new look and a longer range: improved aerodynamics and low rolling resistance tyres mean the 64kWh battery version can cover 300 miles on a charge. Performance is a step up from the Peugeot and Vauxhall, but top-spec models are pricey.
Click here for our list of the best electric cars on sale right now…