UK-based Arrival reveals electric panel van with modular battery system
New electric commercial vehicle start-up Arrival has revealed a new electric panel van designed in the UK at the firm's Banbury R&D centre and set to be built in the UK next year at a new factory. 
Called the Arrival Van, it'll enter a brief trial phase this summer with a select group of businesses including logistics giant UPS, before entering production in autumn 2022. The van will be assembled at a new facility in Bicester, creating around 200 new jobs in the first year of full production. 
So far, Arrival has racked up $1.2 billion-worth (around £870 million) of orders, with the aim of building 10,000 vehicles in the first year of production. However, the brand has plans to open more assembly lines, each of which will employ a further 200 people and increase annual production capacity by 10,000 units. 
It'll be one of the first large electric vans on sale, directly rivalling the Fiat e-Ducato and sitting above the Vauxhall Vivaro-e and Peugeot e-Expert in terms of size. Arrival says its new van will have a maximum payload of 1,975kg and, depending on the wheelbase, a maximum capacity of 14.6 cubic metres.
The battery pack system is modular, with capacities ranging from 67kWh to 133kWh. The entry-level 67kWh van claims an estimated range of 112 miles on a single charge, while two mid-range 89kWh and 111kWh options are pegged at 149 miles and 180 miles respectively. Arrivals claims that the 133kWh version of the van is capable of 211 miles on a full battery, while every version comes with 120kW DC charging technology. 
Unlike its major competitors from Stellantis, the Arrival Van is built around a purpose-made electric platform. To keep the van's kerb weight to a minimum and maximise range, its chassis is made from aluminium and its body panels are made from lightweight composite plastics.
Arrival says this latter innovation could also help to keep repair costs down, as the composite panels are more resistant to dents and scrapes than painted steel bodywork. If a panel does get damaged beyond use, it's also quicker and cheaper to replace. None of the van's structure will rust either, which increases its life expectancy.
The Arrival Van uses little welding to construct. Instead, the platforms and bodies are bolted and bonded together, which the brand says makes the vehicles both quicker to assemble and cheaper to buy as there's no need to invest in expensive specialist tooling.
Patrick Bion, Arrival's head of product marketing, told Auto Express: "Our material cost alone will never be our best competitive attribute, but when you balance that off with the cost of the assembly process, it's far, far better. The cost to bring a product to market – or 10,000 – is far, far lower than using the traditional processes.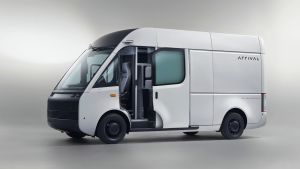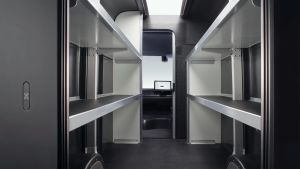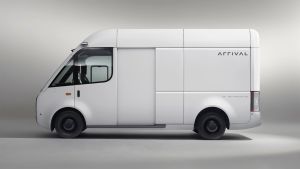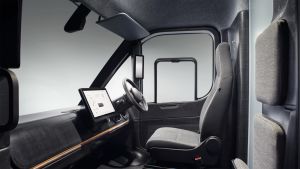 Further costs are saved by the use of a new, cheap composite material in the construction of the van.
"It's one that we've created from the ground up. So we take raw commodities that are easily available – in this case a thermoplastic and a glass fibre – we make our own sheets and form those sheets ourselves," explained Bion. 
"We can then add certain materials to get more from that property. So, we can add a veil on the outside so that it has very good UV stability, for example. We can also run a colour all the way through, so when you scratch it, you're not seeing paint marks. All little things that mean for a product – or tens of thousands of a product – on the street, you're going to have to service it a loss less frequently than you would with anything else."
Inside, the van features climate control, digital rear-view mirrors and an enormous 15.6-inch infotainment system mounted in the centre of the dash. There'll be plenty of safety tech, too, including autonomous emergency braking, blind spot monitoring and lane keeping assist.
The entry-level model will be powered by an electric motor mounted on the front axle, although more expensive variants will be offered with an extra motor for the rear wheels, while the van also makes use of a two-speed gearbox compared with the single speed transmission common in electric vehicles. 
Arrival says the system will have an output of 150kW – equivalent to 201bhp. The powertrain is also modular and will find a future home in the brand's upcoming electric bus (where it could develop up to 3,000Nm torque) and a new lightweight commercial vehicle.
As for the cost, Bion claims that the Arrival Van could undercut rivals from big-name manufacturers.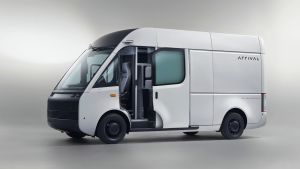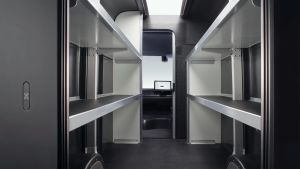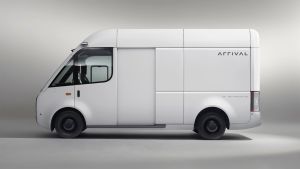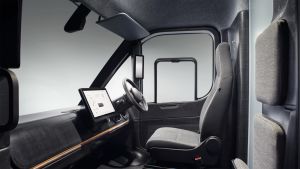 "We will be much lower cost than other retro-fit EV vehicles," he said. "By that I mean any team that's taking a vehicle built around an engine, we'll be much cheaper than those products."
Over the next 12 months, the Arrival Van will be joined by a smaller electric panel van and a pure-electric bus, both of which will use the same modular battery and powertrain technology. Both projects are deep into their development phases, with First Bus already trialing Arrival's single decker electric busses on some of its routes.
The Arrival Bus has a massive 310.8kWh battery pack and offers seating for 36 passengers. Also, as it is built using the same weight saving techniques as Arrival's electric van (as well as common suspension and wheels across both its axles), it's estimated to be around 40 percent lighter than most battery-electric busses currently on the market.
Patrick Bion even mentioned in passing that Arrival could soon build an electric car, using the same technology in its vans. He said: "A lot of our technologies are used across all of our vehicles – so; big van, small van, bus, truck, car, whatever it might be. We'll have a number of products coming out in the next few years.
"We're here to address electric vehicle adoption wherever we need to. Everything we do – it's not about being a van producer or a bus producer – is about solving the scalability of a product; it's about solving the assembly process and the cost of the user experience. And we'll apply that to whatever products we think we need to."
Now read our run-down of the best electric vans on sale now…